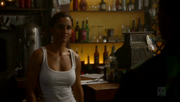 Chance's former paramour who asks for his help in "
Salvage & Reclamation
", although they parted on less than the best of terms. They are reunited once again in "
A Problem Like Maria
" when she requests his assistance again to rescue a friend of hers. She is also revealed to be married, a secret she keeps from him until he and his team are already implicated in a kidnapping she engineered. In an extremely
Casablanca-esque
moment, Maria essentially offers to leave her husband, if Chance just gives her a sign.
'The one that got away', although it's not clear whether this applies primarily to Chance or Maria.
Community content is available under
CC-BY-SA
unless otherwise noted.