Katherine Walters was targeted by clients of Christopher Chance's old boss, The Old Man. Junior located her with ease, within twenty-four hours. She was holed up in a safehouse when Junior tracked her down, and she seemed very innocent and naive about her knowledge of a crucial death. When Junior informs her about him being an assassin and how he's going to protect her, he gives her his gun to show his intentions, where she holds it to him, asking him about the situation. They spend time together in a remote safehouse Junior knows of. While she slept, Guerrero breaks in but Junior manages to fight him off. After they fought, they went to find the previous Christopher Chance and as he learns the skills to protect somebody, Winston calls and informs Katherine about younger Chance's objectives. While she listened, Christopher hangs up. They spend close time together throughout the episode.
Later, Junior, now Christopher, inquires about Katherine's potential reason for why she's being hunted. It turns out as the victim who she is associated with, told her some information which she doesn't know anything about. They find out that it's a suitcase in a section on the dock, where she works. Katherine wants to help but Christopher wouldn't let her, and he tells her to stay in the boat in the dock. They briefly share a kiss together.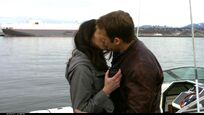 Unluckily, while she helped Christopher, she was spotted by Baptiste. Christopher and Baptiste fought for the suitcase, when it fell into the water, Baptiste set up a bomb in the boat. Christopher stood there as the boat blew up with Katherine on it and Baptiste walked away.
All this happened in 2003, according to her headstone in "Victoria".
Community content is available under
CC-BY-SA
unless otherwise noted.