"Baptiste"
Season {{#pad:1|2|0|left}}, Number 08



Air date
March 14, 2010 (CTV)
March 17, 2010 (Fox)
Written by
Matthew Federman
Stephen Scaia
Directed by
Paul Edwards
Production code
2J5158
U.S. viewers
8.01 million
U.S. ratings
4.8/9 HH
2.3/8 A18-49
Case Folder
Location: Washington, D.C.
Target
Baptiste
Assassin, trained by Chance
Cover
Seaver

SFPD

detective
Cover
Patrick McManus
United Nations liaison
Baptiste is the eighth episode of Human Target. It is, in a number of ways, a sequel to "Embassy Row" and "Lockdown".
Synopsis
Chance's past comes into painful focus when he persuades FBI Agent Emma Barnes to help him stop his former partner, an assassin known as "Baptiste", from eliminating a visiting foreign dignitary at the UN. Meanwhile, Guerrero tests out a familiar face as a new recruit to the team, and we learn more of his and Chance's shared history.
Case file
This piece opens with an unidentified man being approached in the subway by a would-be mugger. The man, with a strong London accent, tries to get the guy to walk away, and effortlessly disarms him when he fails to do so, sending him scurrying off. The prospective victim turns to his companion on the bench, and picks up a long-running conversation where he left off - or so it seems. The man outlines the mutual no-win nature of their current predicament - and how it is essentially his companion's fault. They very clearly have an extensive history, and it appears neither can make a move the other hasn't anticipated and made contingency for. The Londoner waxes philosophical, musing about watches and the value of a life.
Guest stars
Samantha Ferris

as Deputy Director

Lynch

Eric Breker

as

Folster

Trevor Carroll

as FBI Spotter

D. Harlan Cutshall

as Guard

Herbert Duncanson

as Agent

Serge Houde

as

Lecavalier

Kasey Kieler

as Thug

Donny Lucas

as Detective

Todd Charles Mosher

as HRT Team Leader

Giles Panton

as

Roger

Brent Stait as Potomac Electric Manager

Dave Thompson

as Groundskeeper Agent
Statements and hearsay
Memorable quotes from the case.
**Awaiting after-action report**
Music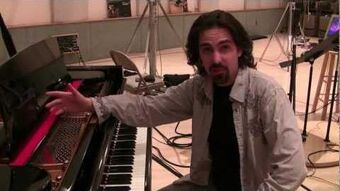 For Baptiste's theme, composer Bear McCreary used a musical technique called intervallic inversion. The notes in Chance's hero theme where they went up or down a step are inverted in Baptiste's theme to create a dark mirror effect, similar to the character's mirror of Chance. As McCreary explains, "the rhythm, orchestration and melodic phrasing of the two themes are identical, but they move in opposite directions."[1]
References